Appen met Simon Hatter over HATTER Pride en verantwoordelijkheid van de bureauwereld
Simon Hatter is de man achter creative agency HATTER en nu ook HATTER Pride. Met dit initiatief zal het team aanwezig zijn tijdens de Amsterdamse Pride, maar er zijn ook ambitieuze plannen voor de toekomst. In de wereld van agencies en merken is er namelijk nog veel terrein te winnen aldus Simon: "I think we have a responsibility to stand up and shout when and where we can".
Good morning Simon, this is Maartje of Fonk Magazine
Great chatting to you!
Hey there Maartje. How you doing ?
I'm good!
How are you? Are the Pride preparations slowly coming together?
Doing well thank you. They are for sure getting there. We have been working on it for so long it feels now and is amazing to see it all finally coming together.
I can imagine (:
Can you share some previews of HATTER's canal parade boat?
How is the disco theme coming along?
Of course here are some sneak peeks.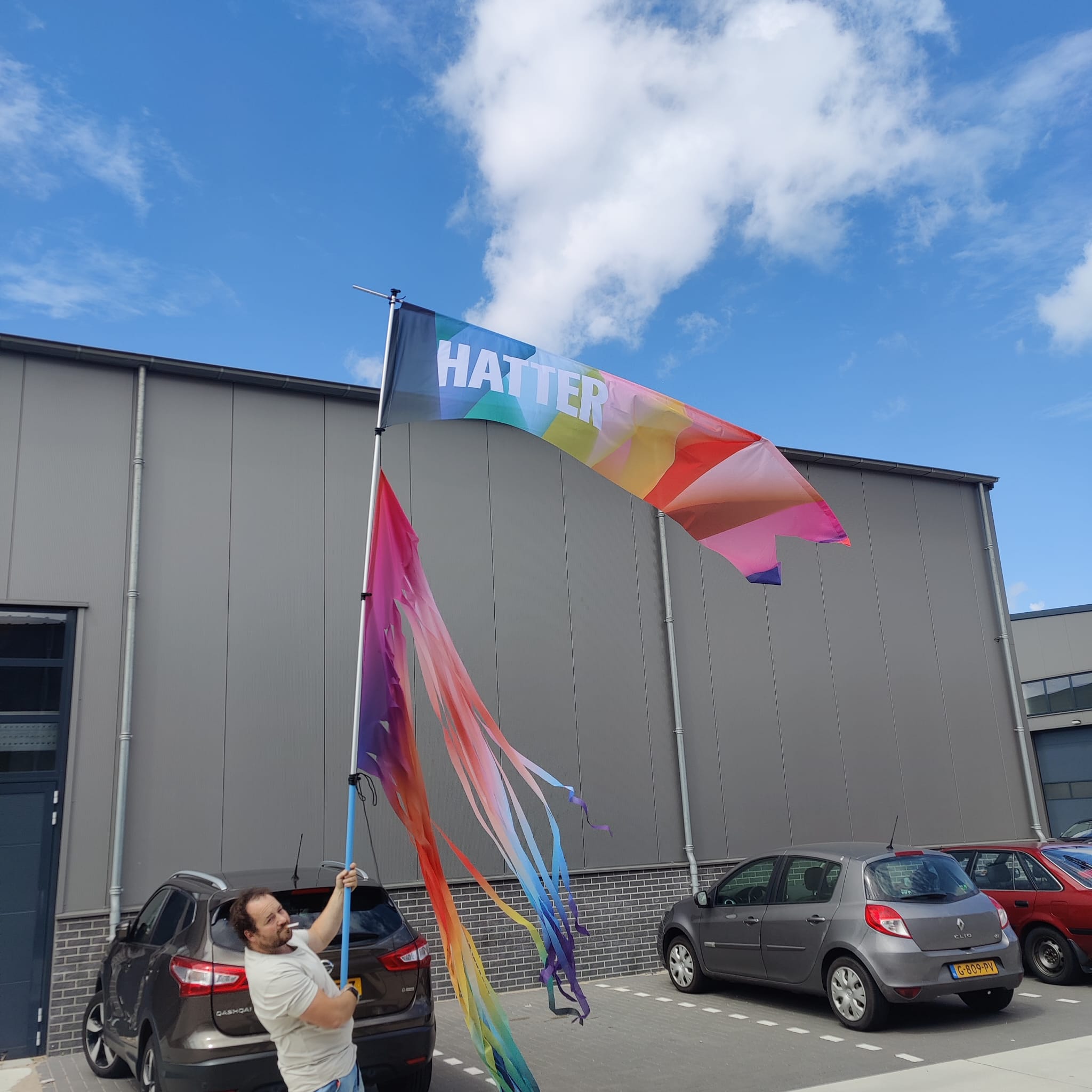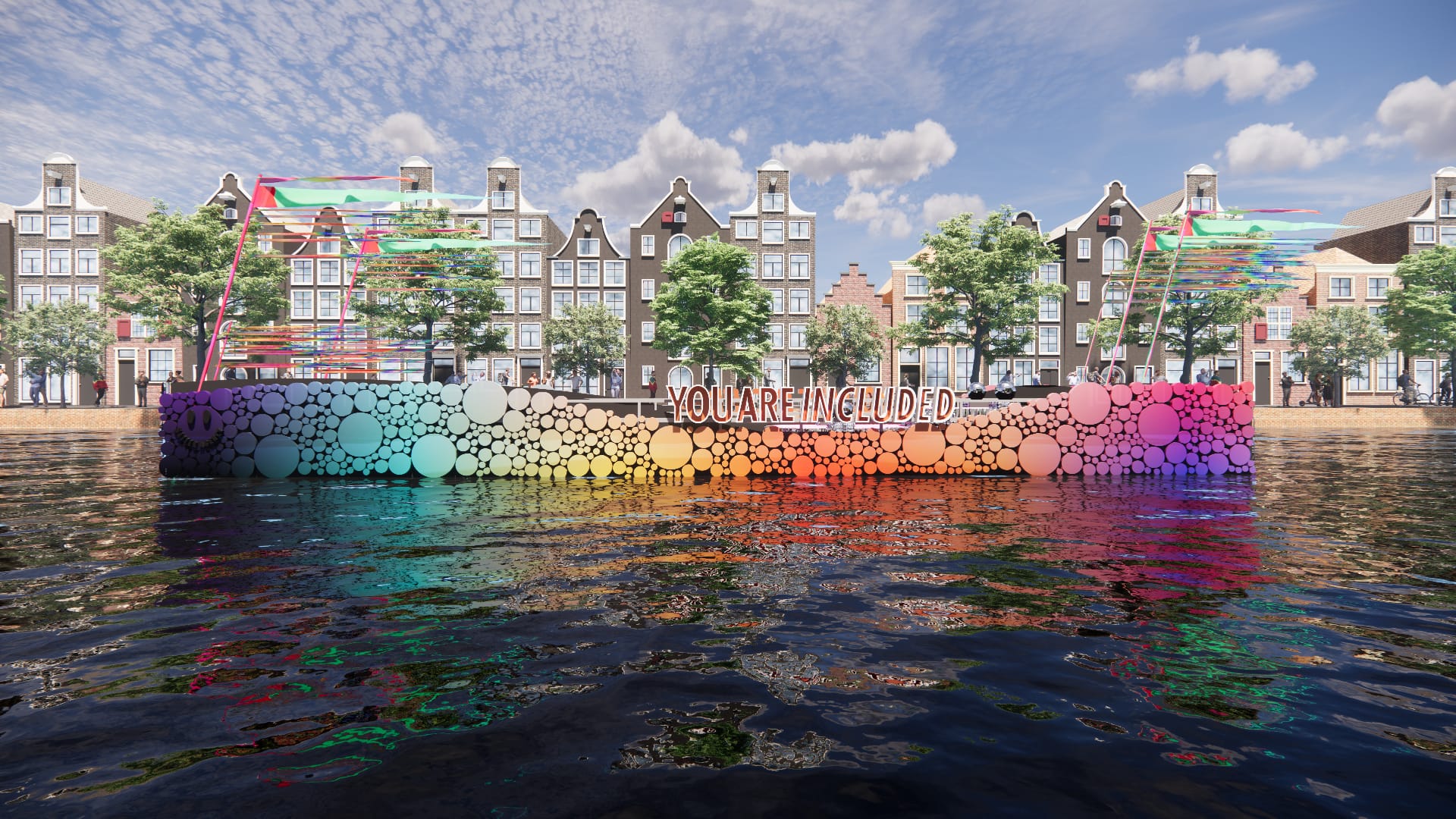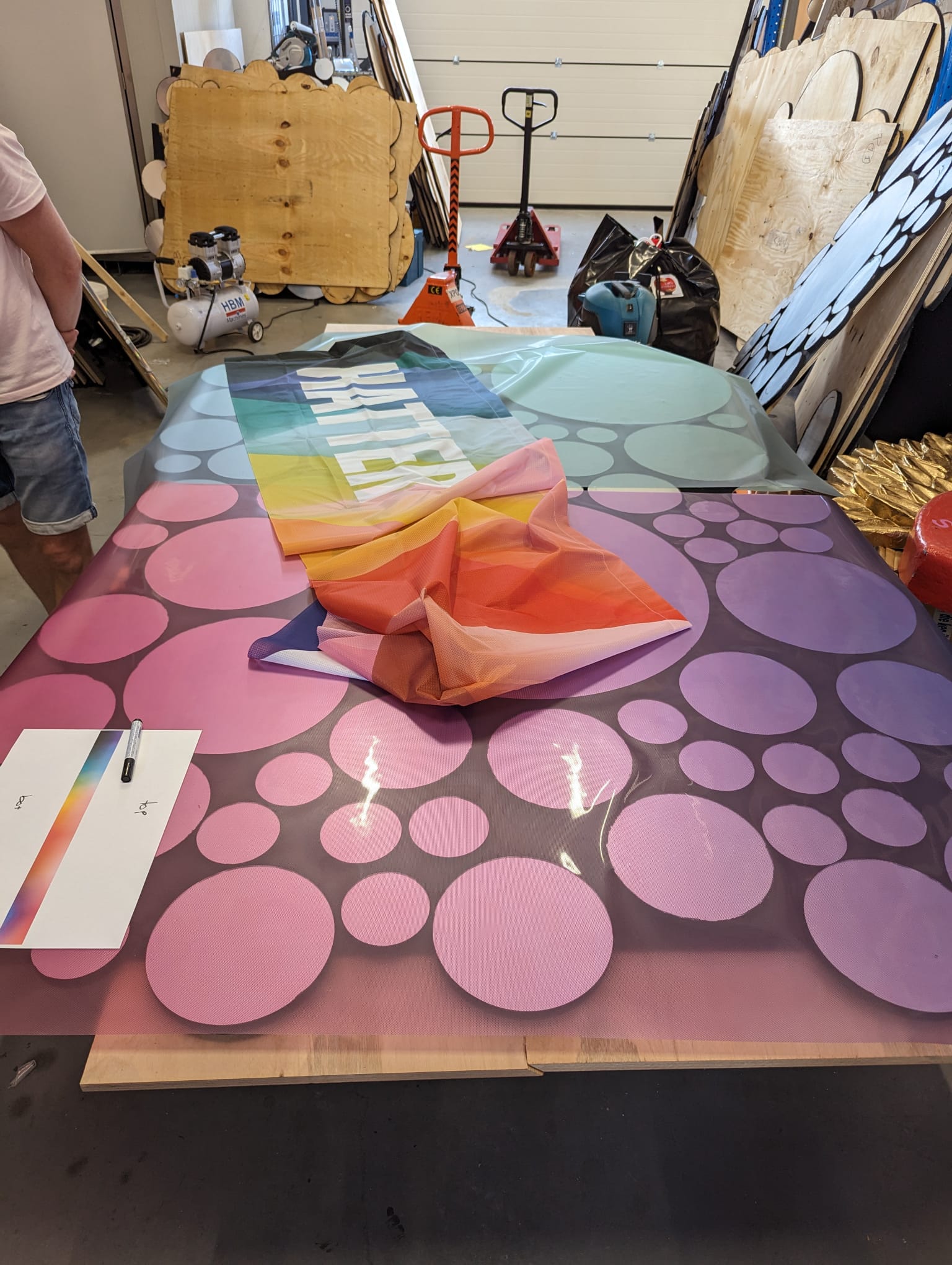 The disco theme is coming through. It was really important for us to reflect the music scene and how important it is to the queer community. Especially at times of protest and movement.
Disco was an integral part of early queer history. Not only did the songs reflect the struggles but the clubs and halls gave us a place to feel safe during a time when hatred was at its highest.
But it's also fun and celebratory so for us it's been about getting a great balance
Really cool! It seems totally in sync with your colorful agency
How is the flag you created representative of your views on Pride?
When we created the subsidary HATTER Pride we knew we wanted a symbol or identity that could live past just this year. HATTER Pride is now for life not just for pride. So we decided to create our own flag that would reflect our beliefs of the future of Pride.
We also wanted to make sure this was not about re-designing the flag but putting our stamp on one. So we actually took inspiration from the boat design, If you notice the gradient on the mirrors on the side of the boat. This gradient was created by taking all the colours from all the community flags and creating one great big gradient. We knew we also wanted to use that across our flag - representing our whole community. We then created these tube-like formations that feel almost like they are moving to represent our community's ever-evolving nature. And then to tie it back with a nod to history we centred it on a triangle - a symbol that we reclaimed from our queer history. But on the flag we did dial up some of those obvious Pride colours - so that we can still have a sense of security and safety.
It looks lovely! How do you see the future of Pride in the world of agencies and brands?
Thank you.
That's a big one for sure. I think brands have a responsibility to set themselves a high standard when it comes to Pride. I think it currently looks lazy and disrespectful at times. They also have to want to be in the fight. This is still a fight for the whole community especially right now. If you don't want to be in the fight step back and allow those who do and can to do it because you are putting people at risk. Yes, taking a meaningful long-term position on Pride is brave for brands – but the LGBTQ+ community understands bravery. It's been fighting for a long time. Taking a stand is showing support for people who have spent their lives – at great personal and professional cost – fighting for representation and acceptance. Put in the work and get it right and you'll find a loyal community willing to support you right back.
As for agencies I personally know that as a queer-owned agency, we are pushing to make sure that where we can we create work available to all and that we push our clients to think past the obvious and stand true to what they are saying they believe. I also think we have a responsibility to stand up and shout when and where we can. This is why we started HATTER Pride in the first place. We do have the power to help make a change and help our clients to see how they can positively change things.
As always I think brands should initiate with Queer owned agencies at these times as well to make sure it is authentic and not just a quick money grabber for them
Have you seen a shift in this awareness happen over the past few years?
When you say shift in awareness do you mean from brands or agencies?
From agencies specifically
And how are your views on the attitude of Dutch agencies on Pride awareness? As events such as Amsterdam Pride seem to attract a bigger audience each year
I think across the board agencies and businesses are starting to stand up and use their voice. We are seeing more examples of queer-run agencies that only focus on queer brands and projects. Or a number of agencies that specialise in diversity training and casting etc. But I am yet to see it from the bigger agencies, It seems to be coming from the smaller agencies the more grass-root independent ones.
I know from being part of the Amsterdam Pride Business club that agencies are getting involved, The great thing about joining the business club is they ask you what skills you can bring to them and that allows queer-owned or ally-owned businesses to really contribute to an authentic Pride. I know from the queer community across the world Pride can be quite a controversial time. It is full of big brands that can some what take over. But we have to remember they also help fund Pride. But I would love to see more dine to help Queer-owned businesses take part and use this platform to show others we can go toe to toe with these big brands and make this day not just a celebration but also the protest it should be.
I think Pride can fill like it is being diluted to fit family values and that was never what it was about. So whilst I LOVE Amsterdam pride (it is one of my favourites) and I love that more people are coming - it means we have more people that we can get our message of equality to. I think brands can help make sure this day isn't a pink-washing exercise and diluted and help us retain the authentic fight that it is built for.
As a queer-run agency that really stands up for your views, have you experienced difficulties collaborating with bigger brands or bigger agencies to really get your message out?
We only really work with clients that match the company's ethos and so we haven't experienced difficulties at all. We do sometimes have to remind the clients about certain ways of talking about people or how certain campaigns could be more inclusive. Which is always met with thanks and gratitude.
Good to hear!
What are some things you hope to achieve with HATTER Pride in the future, when Amsterdam Pride is behind us?
We have a number of plans for the next 12 months which involve more on-the-ground events here in Amsterdam. We are starting a new speaker event where we will hear from the queer community and businesses alike. We then really want to use the HATTER Pride platform to work with brands approaching Pride campaigns, activations or events. We would love to be who they go to to make sure these experiences are appropriate, authentic and honest.
We will also continue to create opportunities to raise money to help LGBTQIA+ charities continue their amazing work
That sounds ambitious and exciting!
Curious to see more of your future projects and of course your disco party on the canals during parade (:
Thank you for your interesting views and insights
We are boat number 44 so keep an eye out for us!!
Thanks for taking the time to chat with me
I will be dancing along the canals (;
Well we will look out for you ha ha !! Have a good one
---