Appen met togetherr co-founder Amir Guy
09-06-2022 (16:20) - Appen met
Vandaag is togetherr gelanceerd, een platform dat freelancer verzamelaar fiverr overeind heeft gezet specifiek om een team van creatieven via AI samen te stellen. De klant bepaalt uiteindelijk, maar dit proces haalt het bureau als middenman uit het proces. Welke effecten dit zal hebben op eht bureaulandschap en vanuit welke behoefte togetherr is ontstaan, bespreken we met Amir Guy, co-founder en General Manager van togetherr.
WhatsApp-status: Available
Hi Amir! This is Anne from FONK. Are you available for a chat over text?
Hi Anne , can we do this in 20 min?
Sure!
Great
Available
Great! Thanks for making the time
Congrats on the launch of Togetherr! Great name by the way
Where did the idea of launching a freelance platorm specifically for creatives?
Thank you

togetherr - lowercase t

oops thanks for correcting me
I am an advertising guy. It has been my career for over 25 years. I worked for big agency networks and I lead an fairly big agency myself for many years. I have seen how things changed for us over the last decade and how every stakeholder in this market looking for a different way of working…and thought that for most of these changes, tech can help
a*
Interesting
I crossed paths with Fiverr's founders , and together we built this vision and now a platform
Btw, I don't like the word freelancers
, our platform is for independent creative talent of the highest percentile of our industry

Okay fair enough
Independent talent who are also entrepreneurs

You mention the highest percentile of the industry, is there a selection procedure that comes with registering on togetherr?
Definitely. We are not for everyone. You have to have a certain proven quality - awards, years of experience, your work , etc.
if you can't be vetted automatically by our platform (using data and our Creative Genome technology ) you'd have to be endorsed by our creative endorsers (reviewing you application , you work or your talent)
Even if you never worked a day in advertising , if the endorses think you are talented (because you demonstrated your talent to them) you are in

Haha that's cool
So it's only independent talent that's on the platform? People can't be part of an agency and be on the platform as well?
They can, providing they are I dependent small/micro agency led by creatives. Most independent talent, who are entrepreneurs are forming some sort of agency, it can be a team of two , or an official agency of 10 working and collaborating with other talent

Nice
How can the client make sure that the team entails all the necessary talent for the team to be complete and reach its full potential? Usually this is on the agency, is it now up to talent to invite others to work on projects as well?
But of course many are individuals looking to team up with others on projects - it's important to say

yes of course
The talent almost does nothing but upload is profile, work and credentials. He can point and connect with other people on the platform (before a project comes in), but the project matching and the team building is all done by our creative genome technology AI algorithm

Cool!
Which takes into consideration many factors , stating with the project requirements, the skills the projects require , the outcomes needed, the industry , the budget, the geography, previous work etc…
The team is bying built by the tech.
It also take into account connections and real stop shops between creative people - trying to crack the mysterious thing we call "chemistry"

Oh wow, that is quite ambitious!
The client is than presented with a number of matched team to choose from. And the client is also presented with an analysis for every team -. Why we think this team is the best for the specific project

And really valuable if the tech is able to grasp such an ungraspable thing
He can go into each team member profile and experience

nice, so they do get some say in the matter
Of course. A project only stars after the client chooses a team and interviews them
Starts
Tech is being used to build the team (find and match the perfect team for the project) . Creating the work itself is very much human . As we know it.

How do you predict togetherr will impact the creative industry landscape?
Will clients resort less to agencies and more to independent talent?
The industry is already changing .
Clients are looking for direct access to creatives. The are moving a lot of their business to project-base, and even building their own in-house creative teams. But this efforts are very limited - it's hard to find good quality creative talent (independent) , you usually resort to your limited list. It's also hard to retain talent in an in-house team. They get board fast.
togetherr aims at removing these limitation - imagin every client have access to the best of the best, globally, on a project basis .
Agencies are also changing. Or at least want to change - they want to be able to provide project-base but it's hard when you don't have on-demand , vetted and curated resources (on scale). The want to become leaner, more agile and increase their flexibility . The want to have access to every niche skill and expertise, but it's impossible to have it all on their pay-roll.
togetherr will remove these challenges for the benefits of agencies.
So we are more an enabler of change than we are a distruptor
Agencies are here to stay. Clients will always need agencies . The just need to change their structure and the way they work with clients and with talent . togetherr aims to enable these changes .

Wise words to end this conversation with I suppose
And good to hear agencies won't go completely obsolete ;)
Curious to see how togetherr will do from here on out!
Can I forward you a couple of sentences I wrote to myself as an addition ?
Yes please!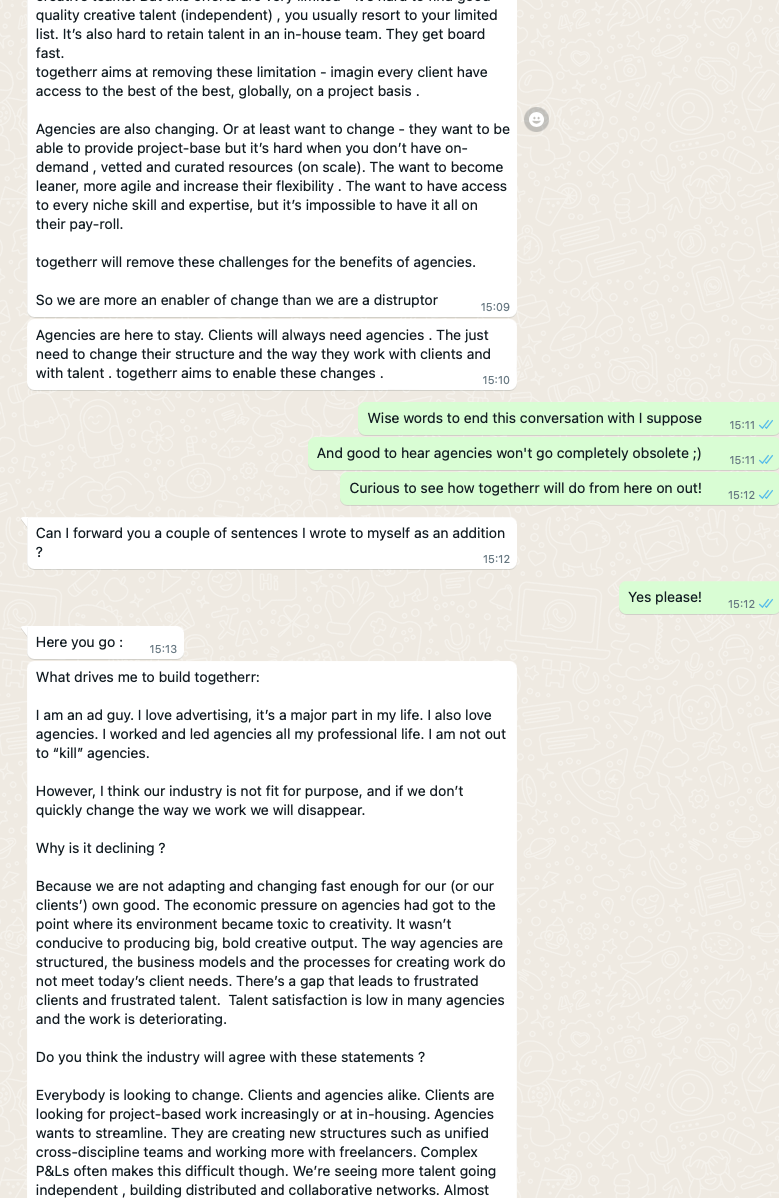 Here you go :
What drives me to build togetherr:
I am an ad guy. I love advertising, it's a major part in my life. I also love agencies. I worked and led agencies all my professional life. I am not out to "kill" agencies.
However, I think our industry is not fit for purpose, and if we don't quickly change the way we work we will disappear.
Why is it declining ?
Because we are not adapting and changing fast enough for our (or our clients') own good. The economic pressure on agencies had got to the point where its environment became toxic to creativity. It wasn't conducive to producing big, bold creative output. The way agencies are structured, the business models and the processes for creating work do not meet today's client needs. There's a gap that leads to frustrated clients and frustrated talent. Talent satisfaction is low in many agencies and the work is deteriorating.
Do you think the industry will agree with these statements ?
Everybody is looking to change. Clients and agencies alike. Clients are looking for project-based work increasingly or at in-housing. Agencies wants to streamline. They are creating new structures such as unified cross-discipline teams and working more with freelancers. Complex P&Ls often makes this difficult though. We're seeing more talent going independent , building distributed and collaborative networks. Almost everybody is looking for a better way to work. But without technology these efforts are limited. The idea behind togetherr is that tech (AI specifically) can help accelerate these changes- to the benefit of all the players in the market.

And please , another import note:
togetherr is built for the ad industry by the ad industry . Our councils are not just names, they were highly involved with designing this. Fiverr was the tech geniuses that built the technology for this . No one else could .

Nice, I think it's interesting what you mention about the environment being toxic to creativity. You hear a lot about that these days, about work-life balance and everything that influences the creative process
I think for most creatives it's not about their balance. It's about their freedom to create, with the fear of mounting pressures and fear of loosing clients and working on stuff they don't like . The want to pwn their creativity. Take back the from seat. Be paid more . And work from wherever , whenever. It is possible with technology .
Without the fear of mounting pressures

Of course
Thank you for your time Amir!
And good luck with the launch and everything revolved around it
You are welcome Anne. Stay in touch
---