WhatsAppen met Dept Associate CD João Inácio
09-11-2021 (16:40) - Appen met
Philips speelde afgelopen week geniaal in op Movember, mede dankzij Dept. Dit soort campagnes verdienen natuurlijk een extra beetje aandacht, en daarom ging FONK wat dieper in op de activaties met Creative Director João Inácio. Ligt er een toekomst voor meer uitgesproken campagnes voor grote corporates als Philips?
WhatsApp-status: Hey there! I am using WhatsApp.
Hi João! Are you ready for a chat?
yes, let's go

Really cool work for Philips, I think it had a lot of impact right when it was released!
It's quite remarkable that a large corporate company such as Philips releases such an outspoken campaign - how was the process in terms of pitching for them and discussing concepts? Who came up with the idea of integrating Movember in the ad?
Philips is a global brand with legitimate focus on making people's lives better. Mostly the products Philips creates achieve that by helping you iron, cook or brush your teeth in a healthier, easier way. So, the cooperation with Movember was already in the works to help spread awareness around men's health specifically. The idea of working with Movember came through Philips and the concept just glues the two brands perfectly.

I think one of the things the ad does brilliantly, is it ties together a couple ideas in a very coherent concept
But I don't need to tell you that ;)
yes, the line "right under your nose" is where the moustache grows. And there's nothing better than Philips One Blade to groom it.
but when we look at men, in general, we tend to put off our health and dismiss health issues, even when they're just really under our very noses

So clever
It's really cool to see that a large brand like that is actively seeking to make impact through their ads in a relevant way. How is it working with a brand like that as a creative director at an external agency - is it ideal or does it take away some of the spice and challenge of your work?
Spoiler alert: it's not easy to push a brand in this direction, although that's what all brands should do more. Especially when we're talking about a giant like Philips, with such a long history of consistent and rather 'safe' ads, doing this campaign was a test for our client but one they've taken very gracefully - from the start, we were able to challenge Philips to go into uncharted territory, and this is the result of a great client-agency relationship built on trust. Without trust, there's nothing ;)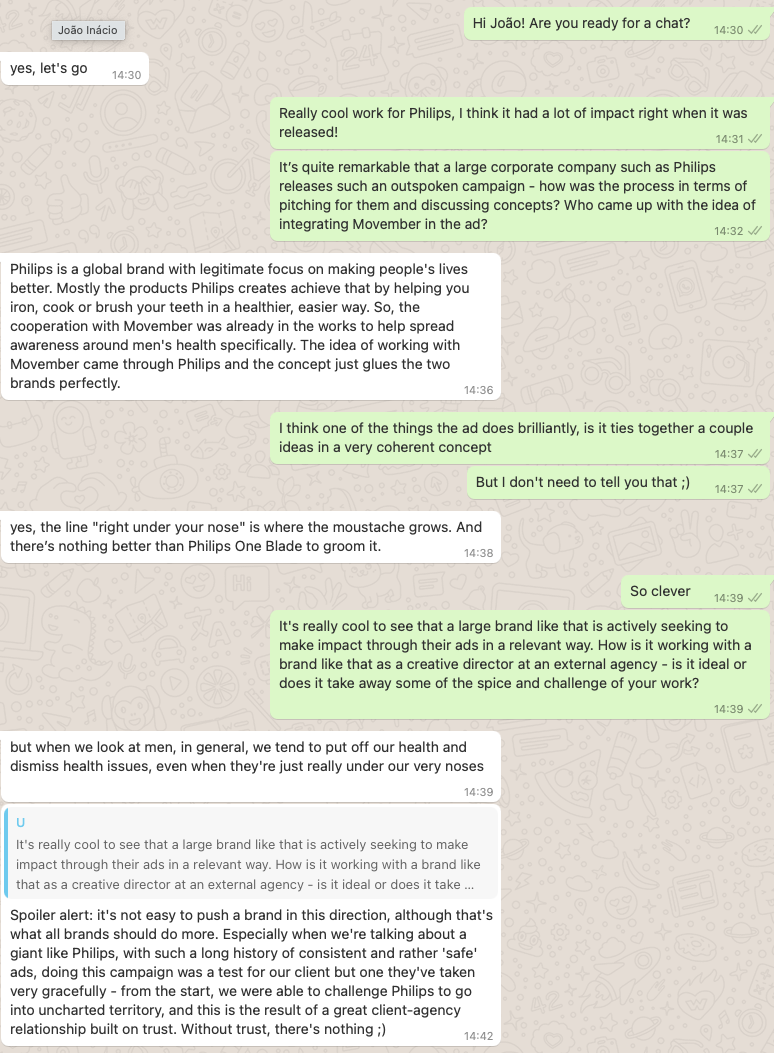 haha that's why I'm asking!
That's very interesting that trust is so important
but it totally makes sense
Maybe other large brands will follow when they see what the effect of such advertising is
let's hope so!

You said that all brands should do this type of advertising more
but what happens when all brands start to advertise like this? does the impact really stick around then or do commercials become one of many?
I think if it makes sense with the brand character, what it stands for, and connects organically to its products - then you've found the golden triangle. But I believe brands should go way beyond just selling a product. That's already a given, like in any business. But what's the added value? What's there to gain, learn or is there a behaviour change, a real impact happening after one sees the ad? That's a sweetspot brands can find for themselves, and it's different for every brand out there cause their all different, right?
*they are

Very interesting!
Do you think that could lead to creative agencies living up to their full potential as well?
interesting question!
as more and more creatives have a sense of urgency to do something positive for the world, something that goes beyond commercial creativity, I think in a way yes. Living up to our full potential is partly doing good to the world but that's always nuanced - it's hard to speak for other agencies about that.

Of course
I think you have some other work to get back to, so I'm gonna let you go!
thanks so much for your time on such short notice João!! really interesting answers
My pleasure Anne!
I love to talk about these things
thanks for the insighful questions
always makes me wonder more

Happy to hear that! Have a good rest of your day :)
you too :)

Thank you!
---